In the United states, there are 123,000 people in need of an organ. How much are your body parts worth?
In theory, if you could harvest every organ and chemical in your body, you could make a cool $45M! But in reality, Medical Transcription estimates, the average price of a human dead body is more likely to fetch around $550,000 (with a few key body parts driving up the price).
So how does that all break down? Well, first depends if we're talking about selling your organs legally or via the black market. The biggest-ticket organ you can legally sell in the U.S. is your heart: They're going for a cool $1 million. Livers come in second, worth about $557,000 and kidneys fetch about $262,000 each. Widespread diabetes and heart disease is what have made these particular organs so expensive.
On the black market, however, prices are considerably lower: maybe 10% of the above costs. In the US alone, there are currently 123,000 people waiting for organs (100,000 for kidneys), but only about 14,000 organs are donated per year. This means every day about 18 die waiting for a transplant. This world-wide organ shortage have caused a black market to crop up: the old "supply and demand thing". Surely Adam Smith had no idea the economic concept he coined would one day be applied to human skin ($10/inch), stomach ($500) and eyeballs ($1,500 each) one day.
The creepiest part of all this is where black market organs are coming from. The abject poor in dire need of cash, prisoners (dead and alive!), looted graves … some entrepreneurial organ brokers have resorted to paying off morticians at funeral homes!
Here's How Much Body Parts Cost on the Black Market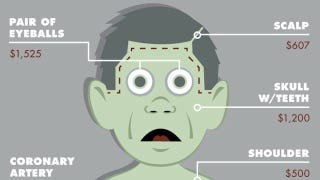 If you were ever curious as to how much body parts can fetch on the black market,Medical Transcription created a snazzy infographic to show you. Some parts are shockingly cheap! Like would you want a new shoulder or a new iPad? Both cost 500 bucks.
Other organs are prohibitively expensive, like a kidney. That little sucker costs $262,000 in the US (other countries have it for cheaper)! Here's the full list of body parts and their cost:
Pair of Eyeballs: $1,525
Scalp: $607
Skull with Teeth: $1,200
Shoulder: $500
Coronary Artery: $1,525
Heart: $119,000
Liver: $157,000
Hand and Forearm: $385
Pint of Blood: $337
Spleen: $508
Stomach: $508
Small Intestine: $2,519
Kidney: $262,000
Gallbladder: $1,219
Skin: $10 per square inch